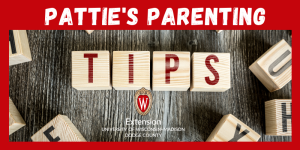 PATTIE'S PARENTING TIPS
Pattie's Parenting Tip is a new social media/web outreach for the families of Dodge County.  Look for regular posts from UW Madison Division of Extension-Dodge County Human Development & Relationships Educator, Pattie Carroll.
PROGRAMS WITH PATTIE!
The Parent Cafe: Pattie co-hosts with other Southern Wisconsin Extension Educators on a one hour, free, weekly webinar for parents and caregivers in our area!
EMAIL PARENTING NEWSLETTERS
UW-Extension free, electronic, age-paced newsletters, including Spanish language editions. View at: http://parenting.extension.wisc.edu/
OTHER RESOURCES FOR PARENTS