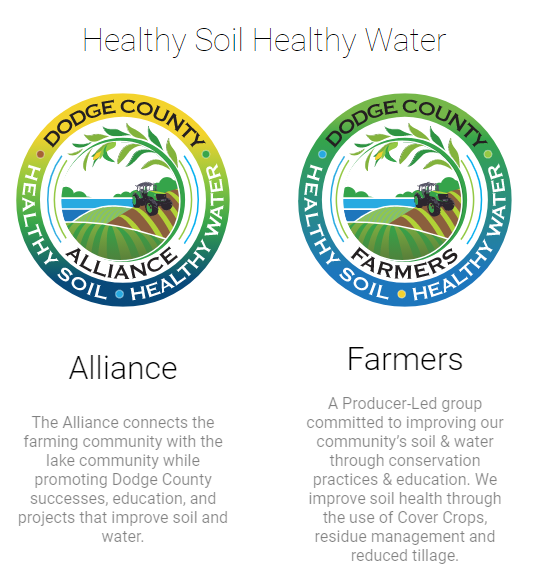 ---
The mission of the Dodge County Alliance and Farmers for Healthy Soil – Healthy Water is to build a community dedicated to soil and water health.
Dodge County is home to an impressive amount of agriculture and beautiful lakes and waterways. The county is home to 2,000 producers and approximately 8,000 riparian owners. The partnership of Dodge County lake associations/districts and farmers is an important one. Together, the group works towards solutions that benefit Dodge County's soil and water.
Learn more about the Alliance and Farmers group that work together in Dodge County to provide quality education, activities, services and support to area producers and lake residents to improve soil and water health in the areas they preside over which in turn benefits our communities.
---
Who is HSHW? | Part 1 of 6 of a Farmer-led Video Series
The Dodge County Farmers for Healthy Soil – Healthy Water or HSHW is a citizen led non-profit organization consisting of farmers and ag industry representatives who promote conservation practices that help to solve soil and water quality concerns in Dodge County.
---
Part 2 | Andrew Condon | Cover Crops and No-Till
Andrew Condon farms in Horicon and Watertown, Wisconsin and promotes a variety of conservation practices on his farm most notably is the inclusion of cover crops and no-till. Andrew is also very involved in the local citizen-led efforts to promote soil and water quality across the county.
---
Part 3 | The Conley's | Cover Crops and Grazing
Chris and Brenda Conley farm near the small town of Neosho and farm on a smaller scale. For their farm, the addition of soil health practices has drastically improved their operation's bottom line and has made farming their land a lot more manageable.
---
Part 4 | Crave Brothers Farm | Making Soil Health Work for YOUR Farm
The Crave Brothers Farm is a large Dairy outside of Waterloo, WI and has been introducing a variety of soil health practices. The Crave Brothers may have a large farm but they do conservation in a way that works for them and they are continually changing and evolving their practices as they go. No matter the size of farm or where you farm, you can always promote conservation into your operation.
---
Part 5 | Jeff Gaska | Grazing and Frost Seeding
Jeff Gaska farms outside of Beaver Dam, WI and uses almost every soil health practice in the book to promote not just soil health but farm profitability. Primarily Jeff has had an emphasis on grazing and frost seeding but does planting green, fall cover cropping, no-till, and is trying out interseeding. Jeff has a wide range of experiences and he uses them to run a successful farm.
---
Part 6 | Charlie Hammer and Nancy Kavazanjiian | Trying New Things on Your Farm Doesn't Have to be Scary
Charlie Hammer and Nancy Kavazanjian have been innovators for a long time. Farming in Beaver Dam since 1980, they have pushed the envelope on conservation and soil health and have been able to show how beneficial conservation practices can be for someone's farm. And as the innovators they are, they continue to try new and exciting practices on their farm to explore the possibilities of what can work for them and promote new ways of protecting soil and water resources.
---
Thank you to Jesse Wilson Productions for the filming, interviewing, and editing of the videos. Also a big shoutout to Michelle Probst of UW-Extension and Jared Winter of Dodge County Land and Water Conservation Department for planning the project.
For more information on the program, please contact one of the following HSHW Representatives.
Tony Peirick- President (920) 390-0583
Marty Weiss- Vice President (920) 296-4764
Website: dodgecountyfarmers.com // Facebook: @DodgeCoFarmersHealthySoilWater // Jesse Wilson Films: jessewilsonproductions.com