Online Training Option for Private Applicator Pesticide Certification
October 30, 2020
Extension Dodge County will not be offering in-person training in 2020.
If you plan on using restricted use pesticides in your fields, you must be certified in Wisconsin.
Farmers needing certification to apply pesticides in 2021 will have an online option for their pesticide safety training. Applicators can do the online training instead of attending an in-person training. There will not be an in-person training scheduled at Dodge County. Attending this online training from the comfort of your home will be like going to a training session in person. You will need a computer and good internet connection. The online training will present the same information as the County Extension in-person training.
 Online training or self-study is the only option available at Dodge County at this time.
Participant still must purchase the manual, or have purchased the manual (General Farming Manual, Private Category 100/101, Eighth Edition) previously. Example: purchased materials for the cancelled March 18th, 2020 in-person training or self-study.
Attending in-person or online training is not mandatory, there is always the self-study option.

The online training option cost is $10.00

.
A $15.00 refund will be forwarded to the applicators that had registered for the cancelled March 18th, 2020 in-person training and lunch.
You will, however, still need to take the certification exam in person at an Extension office.
The online training sessions are scheduled for the first two weeks of every month from December 2020 to May 2021 (the 1st to the 14th of the month). When you register for one of the sessions, you can take the training at any time during that two-week period. Please block approximately 4 hours to complete the training.  Attendance is mandatory, meaning once you start the training you will have to complete it in one session. Two 15-minute breaks are built into the training.
TO REGISTER FOR ONLINE TRAINING:  Go to the UW PAT Store. [ https://patstore.wisc.edu/secure/browse_cat.asp?category_id=30 ].

 Select General Farming 100/101.
 Online training cost is $10.00.

Participant will be emailed a link and password to the training to gain access to the training.
To assure attendance, code words are provided in the training that you must enter at the end to be marked as complete.
Once you complete the online training you will be emailed a receipt of completion that you must show to the County Extension exam proctor when you take the exam. The code words must be correct to take advantage of the reduced grade (50% passing score), otherwise you will be marked as a self-study test (70% passing score). Certification exams will take place at the Extension Dodge County office.
*Those wishing to be certified in Fruit Crops or Greenhouse & Nursery, can take the General Farming training, but then take the exam for those specialized categories.
Cell phones must be turned off during testing, so please bring a pocket calculator for the exam.
**Wisconsin now requires that any person taking a certification exam must provide positive identification (a driver's license is most common) and know their social security number.
You must bring this identification to the testing.
Other acceptable forms of ID are: 
A photo ID

Birth Certificate plus another form of ID

Social Security Number
If you have questions, please call the Extension Dodge County office in Juneau at 920-386-3790.
REVIEW: 
To take the online training, participants will have to register at the UW PAT Store –
[ https://patstore.wisc.edu/secure/browse_cat.asp?category_id=30 ].  It will cost $10/participant.
Participants will have 14 days to access the course. From the 1st to the 14th of the month you select. December 2020, January 2021, February 2021, March 2021, April 2021, and May 2021. Participants can access it any time in that 2-week period.
Participants must complete the training from beginning to end.  Leaving during the training (excluding two 15-minute breaks) will be marked incomplete.  Block 4 hours to take the training.
There are code words in the training that the participant will have to enter at the end of the training to assure they were attending.
There are two 15-minute breaks.
At completion of training, participant will receive a receipt.  Print receipt. Participant must show this receipt to the exam proctor at the County Extension office as "attended a training".
Identify the correct code words for the time frame/month you have registered.  The receipt will be dated and the three (3) code words will be different for each month.  If incorrect, then participant will be coded on the test as self-study.
Call Extension Dodge County at 920-386-3790 to schedule an exam time.
Please call the Extension office with any questions! Thank you.
---
Pesticide Applicator Training and Testing amid COVID-19 Restrictions
DATCP Extends Pesticide Applicator Certifications to October 31
Release Date: March 27, 2020
Media Contact: Leeann Duwe, Public Information Officer (608) 224-5130, leeannm.duwe@wi.gov
MADISON – In accordance with Governor Tony Evers' Safer At Home order (Emergency Order #12) during the COVID-19 public health emergency, the Wisconsin Department of Agriculture Trade and Consumer Protection (DATCP) is extending pesticide applicator certifications until October 31. Private and commercial pesticide applicators with certifications that expire January 31-September 30 can continue to operate as a certified pesticide applicator until October 31.
New pesticide applicators who are eligible, can submit a 30-Day temporary trainee registration form to work under the supervision of a certified applicator. For temporary trainee registrations received March 18-June 1, DATCP extended the 30-day limit until June 30.
The agency is also working with the University of Wisconsin Pesticide Applicator Training Program to develop an online exam to provide temporary pesticide applicator certification. These temporary certifications would also expire on October 31. When this service is available, DATCP will notify current applicators and individuals wanting to become an applicator with instructions on how to purchase training material and gain access to the online exam.
To receive updates about certified pesticide applicator information and requirements, subscribe to DATCP's email list.
DATCP certifies over 19,000 commercial pesticide applicators and over 12,000 private applicators. To learn more about DATCP's certification and licensing for pesticide applicators visit the
Wisconsin Department of Agriculture, Trade & Consumer Protection Pesticides and Fertilizers: Certification and Licensing
###
Find more DATCP news in our newsroom, on Facebook, Twitter, and Instagram.
Dodge County Extension will offer a PAT training session at a future date for applicators whose licenses will expire October 31.
Contact the Extension Dodge County office at 920-386-3790 with any questions. 
---
Pesticide Applicator Training (PAT) Courses Offered in 2020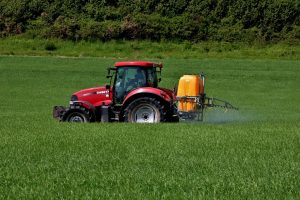 Dodge County farmers whose pesticide applicators certification has expired, will be expiring, or first-time applicators,  will want to register for one of two training sessions or for a self-study program in order to acquire their General Farming Private Applicator's License. Current applicators whose certification is expiring will be receiving notification in the mail.
Training sessions will be offered on Friday, February 7th or Wednesday, March 18th , 2020 in the Dodge County Administration Building Auditorium. A fee of $45 includes the training manual, one resource book, and a catered lunch. Registration and fee payment for PAT classes must be done in person, at least 7 days prior to the training/testing date.  Upon registration, applicators will be taking home manuals with them at registration for studying.
Each training session begins at 9:00 a.m. and ends at 3:30 p.m. At the conclusion of instruction you will take an open-book examination (50% minimum passing score if you attend the entire training session).
Self-study recertification is also available. Study the book and schedule a testing appointment in advance with Extension Dodge County to take an open-book examination (70% minimum passing score). Fee of $30 includes the General Farming Training Manual. Self-study registration may be done one day prior to testing date at the Extension Office, 127 E. Oak Street, Juneau, WI. Phone and mail registrations for PAT are not accepted.  The 2020 Pest Management Guide A3646 is also available for purchase for an additional $15.00.
This course is offered by the University of Wisconsin-Madison, Division of Extension,  and the Wisconsin Department of Agriculture Trade and Consumer Protection (DATCP).  Other private applicator training for Greenhouse & Nursery, Fruit Crops and Commercial Applicator training are offered by DATCP.
For more information, contact Extension Dodge County at 920-386-3790.
You may also visit the Pesticide Applicator Training website at: https://fyi.extension.wisc.edu/pat/  and find trainings in other counties at: https://fyi.extension.wisc.edu/pat/private-applicator-training/.