Master Gardeners 2019 Meetings
The Dodge County Master Gardener Association meetings for 2019 are held at the Administration Building in Juneau on the 4th Thursday of each month at 6:30 p.m. and are free and open to the public. Gardeners of all stages of expertise are invited! Come and bring a friend.
Meetings in 2019 will cover the topics of Bee Keeping, an Off-Site Tour, Identifying Wisconsin Trees, Urban Wildlife, Heritage Seeds/Seed Saving, and more!
See the 2019 Master Gardener Monthly Educational Program Schedule.
2018 Dodge County Fair
Growing your own herbs is a great way to add some unique flavors to the foods you prepare every day. You might try basil for a flavorful pesto, cilantro for a little 'south of the border', or some dill for serving up dips and sauces.
Herbs can bring life to the garden with their unique colors and flowers. They also have many other creative uses. Cooks, crafters, and gardeners love their herbs.
At the 2018 Dodge County Fair, the Dodge County Master Gardener Volunteers will focus on growing and using herbs. As in previous years, you will be able to spin our "Wheel of Knowledge" and answer questions for small prizes.
Master Gardeners will be on hand to help you with your gardening questions and provide information about the work we do in Dodge County. Come by on Wednesday, Thursday, and Friday from 1:00-5:00, Saturday 10:00-6:00 or Sunday 2:00-6:00 and see us at the Fair.
Master Gardener Level 1 Training
For veteran gardeners or novices.
If you are a veteran gardener or a novice, and would like to learn more about gardening and landscaping, consider participating in the next Master Gardener Volunteer Level 1 Training Program.
Dodge County UW-Extension will offer a 14-week Level 1 Master Gardener Volunteer Training from 6:00 – 9:00 p.m. on Tuesday evenings beginning February 6, 2018 and concluding in early May. Training will be held at the Dodge County Administration Building, 127 East Oak Street in Juneau. Participants are required to attend a mandatory orientation meeting on Tuesday, January 23, 2018 at 6:00 p.m. at the Administration Building. This program is only offered in Dodge County every other year.
The program cost is $150 and includes training, a comprehensive set of UW-Extension horticulture publications, and a one year membership to the local and state organization. The training is open to the general public and participants must be at least 18 years of age. Registration will be on a first come, first served basis and class size is limited to 25 participants. Registration deadline for the class is Friday, January 19, 2018. Acceptance into the class will be contingent upon passing a background check. For more information, call the Dodge County UW-Extension Office at 920-386-3790.
This Dodge County program is not solely internet-based, but rather features a variety of hand's on labs plus University of Wisconsin specialists and other guest speakers with expertise and knowledge on a wide range of different topics each week including: preparing soils for optimum plant growth, plant propagation, backyard wildlife, landscaping, insect identification & control, annuals & perennials, fruits & vegetables, native prairies, turf grass management, plant diseases, and weed control. Participants are expected to come to class prepared by reading the manual and watching the on-line lecture series. If participants do not have access to a computer, they can make arrangements to use one at the Extension Office.
Successfully completing the training program is the first step to becoming a Certified Master Gardener Volunteer and a member of the Dodge County and Wisconsin Master Gardener Associations. Participants must also complete 24 hours of community service by October of the year after their training. In exchange for training, participants share their time and knowledge in approved education projects in their local area.
Community service work can easily be accomplished through working on local community projects, providing educational assistance and training, or serving with other Master Gardeners at the local Help Line. Dodge County Certified Master Gardener Volunteers work at local public gardens, nursing homes, community beautification and education projects, home show exhibits, county fair displays and much more!
For more information about the Dodge County Master Gardener Volunteer Level 1 Training Program please contact the Dodge County UW-Extension office at 920-386-3790. The Level 1 Training Registration Form has more information and a clip out section to mail in.
Master Gardener Association 2018 Scholarship
The Dodge County Master Gardener Association will award a $1000 scholarship to a high school senior who is planning a career in some area of horticulture. Careers may include, but not limited to, teaching, plant pathology, agronomy, agricultural engineer, landscape contractor, landscape architect. The $1000 scholarship will be awarded in one lump sum after the recipient provides a copy of receipt for payment of tuition from the college bursar's office.
REQUIREMENTS:
The recipient must be a graduating senior from any public, parochial high school, or home school in Dodge County.
The student must have applied to a two or four year accredited college or technical school that has a program leading to a degree or certification in the horticultural area.
Submit the attached application form. (The 2018 scholarship application will be posted as soon as it becomes available or can be requested from the UW Extension Office at 920-386-3790)
Provide two letters of recommendation. One letter should be from a teacher the applicant had within the past two years. A person to whom the applicant is well known may provide the second recommendation letter. These letters may be mailed by the person providing the recommendation directly to the scholarship committee chairperson, or included in the application package submitted by the applicant.
Watch this site for further information regarding deadlines.

Master Gardener Annual Plant Sale – May 19, 2018
CANCELLED
It is with regret that we announce the cancelation of our 2018 spring plant sale.
An invasive Asian earthworm (Amynthes spp.) was confirmed in Dodge county this past year. Commonly called the jumping worm, crazy worm or snake worm it is very prolific having been first spotted in Dane county in 2013 it has since spread to 17 counties. The worm is easily spread in soil, mulch, compost and plant materials. To slow this advance, we thought it prudent to suspend our sale until effective protocols are developed to ensure we are not inadvertently aiding the spread of this pest.
Why is it a problem? Amynthas lives on or near the soil surface quickly devouring any organic matter destroying soil texture. Soil effected by these worms have a course coffee grounds texture that does not support plant growth. Amynthas is parthogenic, producing eggs without the need for mating, so a single individual can turn into a colony. They reproduce fast, so even though adults do not appear until late June or early July they produce two generations a season. Adults die off in fall. The worms over winter as hard egg casings called cocoons that are from 1 to 3 mm in diameter. Since adults are not present at planting time and cocoons are difficult to spot you can see how easy it would be to inadvertently spread these through donated plants.
You can help. Learn to identify these worms and report their locations to the DNR at invasive.species@wi.gov. Amynthas differs from European earthworms we are familiar with in several ways. They are darker in color, do not produce body slime being dry to the touch, darker on the dorsal side and light on the ventral and are considerable more active withering when handled or trying to escape. The most prominent difference is in the clitellum, the band that earthworms have around their bodies. The clitellum on Amynthas is nearer the head end. It completely circles the body and is very lite in color, almost white. This gives greater contrast between the clitellum and the body than found on other worms. Unlike other worms where the clitellum is raised saddle like on Amynthas it is smooth with the rest of the body.
For more information on Amynthas:
http://dnr.wi.gov/topic/forestmanagement/documents/pub/FR-550.pdf
Dodge County Administration Building
Education Display
The Educational Display Garden at the Dodge County Administration Building in Juneau is looking good. Interested in what's blooming? All plants are labeled with a plant marker and information about each plant can be found at
http://dodge.uwex.edu/…/Administration-Building-Gardens-Plant-Descriptions.pdf
Dodge County Highway Department Education Display
The Educational Display Garden at the Dodge County Highway Department is progressing nicely (it was planted in 2015). All plants are identified with a plant marker and more information on the individual plants can be found at: http://dodge.uwex.edu/files/2010/06/Highway-Department-Building-Landscaping.pdf
The garden at the Highway Department was installed in 2014 and is specifically for an environment with full sun and excessive heat. The plants there are flourishing and blooming beautifully. Native varieties were used extensively, including Adam's Needle Yucca, Prairie Dusk Penstemon, and more.
The gardens (one on each side of the building) at the Administration Building were installed in 2013 and 2014. They include plants that do well in shade and sun conditions. The gardens have filled out spectacularly and are a feast for the eyes. Many native varieties also adorn these gardens, including Montana bachelor button, cupplant, winterberry, black lace elderberry, and lungwort.
Recently, the Homeschool Youth Master Gardener Association worked at the gardens and learned about deadheading, weed identification, proper pruning, and mulching. Clients utilizing the Help Line often stop at the gardens at the recommendation of the Master Gardener Volunteers to view the plants as a possible addition to their landscapes. Anyone can access information about these plants and their characteristics by clicking the links above.
As an extra bonus, the garden at the Administration Building has a Little Free Library stocked with books and magazines for both children and adults on gardening. A bench conveniently located near the library allows visitors to sit and read while enjoying the beauty of the garden.
Little Free Library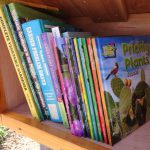 Take a book ~ Return a book
The DCMGA supports a "Little Free Library" in the east garden. The library will be stocked with garden books for adults and children early spring through fall. It is near a bench where patrons can sit and read while enjoying the gardens. Please feel free to take a book, read it, and return it so we can keep the library going!
Ask a Master Gardener Help Line
The Dodge County Master Gardener Association, in conjunction with UW Extension, offers help to all gardeners when problems arise or when they simply need a little encouragement. The Help Line is open at 127 E. Oak Street, Room E on Tuesday mornings 9-12 and Thursday afternoons 1-4 until September 6, 2018. However, if a gardener cannot make those hours, phone calls at 920-386-3790 or emails at askamastergardener@att.net will be answered in a timely manner.
Master Gardeners have gone through extensive training in a broad range of topics ranging from soil, insects, vegetables, landscape plants, plant pathology, and more. If they do not remember the answer to the question immediately, they have the resources to find it, or they will contact a University expert. They will ask questions until they get to the "root" of the problem and help solve it.
After September 6, the Help Line is closed, but questions will continue to be answered that come in by phone and email.
About the Certified Master Gardener Volunteer (CMGV) Program
All-volunteer organization.
An outreach arm of Dodge County UW-Extension (UWEX).
MG's are trained volunteers who aid UWEX by helping people in the community better understand horticulture and their environment.
Membership is open to the public.
The goal of the program is to train enthusiastic volunteers so they can, in turn, provide research-based information on a wide variety of horticultural topics to the general public in their communities.
Training Requirements for Certified Master Gardener Volunteers (MGV):

Complete a 36-hour horticultural educational training offered by UW-Extension.
Fulfill volunteer hour commitment.
Get Involved
As a Certified Master Gardener Volunteer.
Become a "Friend of the Master Gardeners" for only $7/year.
Attend Monthly Educational Meetings.

Fourth Thursday of the month from January through October.
Meetings begin at 6:30 pm and are typically held in the Auditorium Room of the Administration Building located at 127 E. Oak Street in Juneau. We do, on occasion, have a change of night or venue.
The meetings are open to the public and free of charge.
Community Service and Outreach
The Dodge County Master Gardeners provide approximately 1500 hours of education, community service and outreach annually.
Their volunteer efforts directly and indirectly touch the lives of all Dodge County citizens as they work at nursing homes, historical societies, schools, parks, and youth programs.
History
Late 1970's – The MG program began in Wisconsin through UW-Extension.
1992 – Local MG groups formed the Wisconsin Master Gardener Association (WIMGA).
2004 – Local MGV's organized the Dodge County Master Gardeners Association.
Learn More
Through this website:
Contact Dodge County UWEX at 920-386-3793.
2018 Officers
Deb Steinich-Secretary; Connie Alderden-Vice President; Diane Hemling-President; Chris Jacobs-Treasurer; Gae Bergmann-Local Record Keeper.
2017 Certified Members
Front Row: Marianne Zastrow, Kathy McMichael, Jan Krause, Joan Loomis, Mickale Carter, Kimberly Fay, Donna Klawitter.
Middle Row: Ben Hagman, Helen Weisensel, Lynn Stanton, Dennis Loomis, Diane Hemling, Jim Kluetzman, Chris Jacobs, Gae Bergmann.
Back Row: Glen Greenfield, Carol Shirk, Terry Zimmerlee, Berwyn Westra, John Schellinger, Jacque Huebner, Al Krause.