MASTER GARDENER ASSOCIATION 2021 SCHOLARSHIP
The Dodge County Master Gardener Association will award a $1000 scholarship to a high school senior who is planning a career in some area of horticulture.
The recipient must live in Dodge County and be a graduating senior from any public high school, parochial high school, or home school.
The student must have applied to a two or four year accredited college or technical school that has a program leading to a degree or certification in a horticulture or related area.  Careers may include, but are not limited to, horticulture, plant science, soil science, agriculture, environmental science, landscaping, forestry, science education.
Application forms are available in the guidance offices of Dodge County and area high schools.  They include Beaver Dam High School, Dodgeland High School, Horicon High School, Hustisford High School, Lomira High School, Mayville High School, Randolph High School, Watertown High School, Waupun High School, Lakeside Lutheran High School, and Central Wisconsin Christian School. Or please see the scholarship link below.
Questions may be directed to: askamastergardener@att.net.
The deadline for applying for the scholarship is April 1, 2021.
---
Dodge County Administration Building Education Display Garden
2020 was a challenging year for maintaining the educational gardens due to Covid-19 protocols. The Dodge County Master Gardener volunteers were unable to do any gardening until early July. By then, the weeds had a head start and there was considerable pruning that needed to be done. Unfortunately, none of the plant markers were put in place this year due to restricted access.
Despite the late start and restrictions, the garden was beautiful this summer. Established in 2013 and 2014, these gardens continue to change and evolve each year. Last year, some of the hostas needed to be divided and spread out a bit; next spring, more will be divided. This summer, the Montana bachelor button (Centaurea montana) and Meadow sage (Salvia) were divided and moved forward in the garden because the plants in front of them had gotten large enough to conceal them. The Threadleaf coreopsis (Coreopsis verticillata 'Grandiflora') also was divided and moved to an additional location in the garden.
One of the characteristics of the cupplant (Silphium Perfoliatum) is its ability to prolifically self-seed. It had done so in grand style and many small ones had to be removed. In the fall, one of the large bunches was dug out to try and keep in under control. As many native plants, this one has a very healthy root system, so the removal increased the volunteer's muscle power.
The newly planted (2019) Wine and Roses Weigela (weigela florida) made a nice addition to the west side gardens. These gardens, lining the sidewalk, were a flourish of color all summer long with the variety of plants blooming at different times. The Japanese beetles were particularly fond of the Purple Palace Coral Bells (Heuchera micrantha), but once the beetles left the damage was easily trimmed away.
Unfortunately, the gardens on the east side were found to have iris borer. Therefore, all of the bearded iris were removed. In addition, a dogwood sawfly infestation made it necessary to cut down the dogwood early in the season. Be sure to check out the gardens in 2021 for some exciting new additions to replace them.
A new sign was installed to reflect the fact that UW-Madison is now has oversight of the Master Gardener program,
All plants are labeled with a plant marker and information about each plant can be found here.
Dodge County Highway Department Education Display Garden
Because of Covid-19 restrictions, the Dodge County Master Gardener Volunteers were unable to maintain the garden until early July. The first work session involved considerable weeding, pruning, and thinning. Established in 2014, this garden is designed for a hot, dry environment. Two of the plants, Creeping spurge (Euphorbia myrsinites) and stringy sedum (Sedum sarmentosum) do well under these conditions, but are quite aggressive. They had spread so much that they were threatening to take over the entire space. So, much of the first work sessions involved getting those two thugs under control.
The newly planted (2019) Russian sage (Perovskia atriplicifolia) was a beautiful bloomer and attracted huge numbers of pollinators all season. The Adam's Needle Yucca (Yucca filamentosa) was once again a star with stellar blooms in June and July.
Pests were essentially unnoticed in this garden. A new sign was installed to reflect the fact that UW-Madison is now has oversight of the Master Gardener program.
All plants are identified with a plant marker and more information on the individual plants can be found here.
Dodge County Bethesda Pollinator Education Display Garden
This garden also suffered from neglect until early July due to Covid-19 restrictions. Once the volunteers were able to work, it was recovered quickly. Established in 2016, this is the "youngest" garden. It suffers from salt damage each year because snow from the nearby parking lot gets piled on it each winter. Half of the garden does well, but the half near the parking lot struggles. So, plans are underway to replace the lost plants with some that are more salt-tolerant, such as New England aster (Aster novae-angliae), common yarrow (Achillea millefolium), and/or Autumn Joy sedum (Sedum'Herbstfreude').
Unfortunately, this garden was also infected with iris borer. Therefore, all bearded iris were removed. In addition, the mulberry tree that grows along the edge of the garden got a significant trim. This will open up the space, making it easier for volunteers to work and making sunlight more available to the plants. A new sign was installed to reflect the fact that UW-Madison is now has oversight of the Master Gardener program.
All plants are identified with a plant marker and more information on the individual plants can be found at this LINK.
Questions can be directed to askamastergardener@att.net.
---
Little Free Library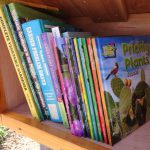 Take a book ~ Return a book
The DCMGA supports a "Little Free Library" in the east garden. The library will be stocked with garden books for adults and children early spring through fall. It is near a bench where patrons can sit and read while enjoying the gardens. Please feel free to take a book, read it, and return it so we can keep the library going!
---
MASTER GARDENERS 2020 MEETINGS
The Dodge County Master Gardener Association meetings for 2020 are held at the Administration Building in Juneau on the 4th Thursday of each month at 6:30 p.m. and are free and open to the public. Gardeners of all stages of expertise are invited!  Come and bring a friend.
2020 Master Gardener Monthly Educational Program Schedule
---
---
ASK A MASTER GARDENER HELPLINE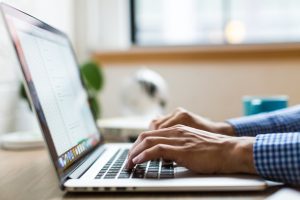 The Dodge County Master Gardener Association and Extension Dodge County announce the opening of the "Ask a Master Gardener Helpline". The Helpline is open during the growing season: May 5-September 4, 2020 on Tuesday mornings 9am-12pm and Thursday afternoons 1-4pm. Clients can send inquiries via EMAIL askamastergardener@att.net OR PHONE 920-386-3790. Volunteers will respond back to you in a timely fashion.
This year, due to the COVID-19 Virus safety concerns and the Governor's Emergency Order to "Stay at Home", THE MASTER GARDENER ASSOCIATION IS NOT ABLE TO OFFER THE WALK-IN HELPLINE OPTION AT THIS TIME. THIS MEANS THAT OUR VOLUNTEERS WILL BE WORKING FROM THEIR HOMES.
The Walk-In option may resume later this year, as soon as we are able, depending upon the development of the COVID-19 Virus Emergency Order status. Also this year: actual, real life samples of your specific plant or insect problems are no longer able to be brought into the office for diagnosis. Rather, clients are asked to email askamastergardener@att.net with CLEAR, GOOD QUALITY DIGITAL PHOTOS to help with the identification of your specific plant or insect concerns.
Certified Master Gardener Volunteers can assist gardeners with identifying flowering and nonflowering plants, trees and shrubs, vegetables, insects or plant diseases. Volunteers also help with general gardening practices, information needed to make and keep gardens healthy, growing and beautiful. The Dodge County Master Gardeners normally meet on the fourth Thursday of the month and host educational programs on a wide variety of horticultural topics. Master Gardeners assist UW-Extension staff in sharing horticultural information with the public. They work on a wide array of projects in the Dodge County area by providing gardening support and education to community organizations like nursing homes, schools, historical societies, parks and youth programs. Due to the COVID-19 Virus Emergency Order, both the above monthly meetings and all Master Gardener community projects are suspended, until further notice.
For more information about the Master Gardener program and upcoming educational opportunities, contact the Dodge County UW Extension office at 920-386-3790, visit the website at https://dodge.extension.wisc.edu/master-gardener/ or connect with us on Facebook.
---
2020 GARDENING FOR GOLD SYMPOSIUM-CANCELLED
The Gardening for Gold Fall Symposium committee met recently and made the very difficult decision to cancel our 2020 event.  The venue we use, Horicon Marsh Education Center, is still closed with no indication of when they might open.  As Master Gardener Volunteers, we are still under a no-contact restriction for any volunteer activity with no idea when that might be lifted either.
We plan to have a bigger and better event in 2021 and are already working on the details.  Most of the sponsors and speakers that we had lined up for 2020 are already on board for 2021.  We are looking forward to reconnecting with you next year, so keep Saturday, November 6, 2021 marked for a wonderful, fun-filled horticultural event in Dodge County.
---
MASTER GARDENER LEVEL ONE TRAINING
For veteran gardeners or novices.
If you are a veteran gardener or a novice, and would like to learn more about gardening and landscaping, consider participating in the next Master Gardener Volunteer Level 1 Training Program.
Dodge County UW-Extension will offer a 14-week Level 1 Master Gardener Volunteer Training from 6:00 – 9:00 p.m. on Tuesday evenings beginning February 4, 2020 and concluding in early May. Training will be held at the Dodge County Administration Building, 127 East Oak Street in Juneau. Participants are required to attend a mandatory orientation meeting on Tuesday, January 21, 2020 at 6:00 p.m. at the Administration Building. This program is only offered in Dodge County every other year.
The program cost is $150 and includes training, a comprehensive set of UW-Extension horticulture publications, and a one year membership to the local and state organization. The training is open to the general public and participants must be at least 18 years of age. Registration will be on a first come, first served basis and class size is limited to 25 participants. Registration deadline for the class is Friday, January 17, 2020. Acceptance into the class will be contingent upon passing a background check. For more information, call the Dodge County UW-Extension Office at 920-386-3790.
This Dodge County program is not solely internet-based, but rather features a variety of hand's on labs plus University of Wisconsin specialists and other guest speakers with expertise and knowledge on a wide range of different topics each week including: preparing soils for optimum plant growth, plant propagation, backyard wildlife, landscaping, insect identification & control, annuals & perennials, fruits & vegetables, native prairies, turf grass management, plant diseases, and weed control. Participants are expected to come to class prepared by reading the manual and watching the on-line lecture series. If participants do not have access to a computer, they can make arrangements to use one at the Extension Office.
Successfully completing the training program is the first step to becoming a Certified Master Gardener Volunteer and a member of the Dodge County and Wisconsin Master Gardener Associations. Participants must also complete 24 hours of community service by October of the year after their training. In exchange for training, participants share their time and knowledge in approved education projects in their local area.
Community service work can easily be accomplished through working on local community projects, providing educational assistance and training, or serving with other Master Gardeners at the local Help Line. Dodge County Certified Master Gardener Volunteers work at local public gardens, nursing homes, community beautification and education projects, home show exhibits, county fair displays and much more!
For more information about the Dodge County Master Gardener Volunteer Level 1 Training Program please contact the Dodge County UW-Extension office at 920-386-3790.
The
Level 1 Training Registration Form

has more information and a clip out section to mail in with payment for class.
---
2020 DODGE COUNTY FAIR
Because of the COVID-19 pandemic, the Dodge County Fair was cancelled.  Therefore, the Dodge County Master Gardener Association will not be available in that venue to answer questions.  However, volunteers are still available to help Dodge County residents through the Ask A Master Gardener Help Line.  Gardening has seen an upswing this year and we are fielding a number of questions from first-time gardeners as well as veteran gardeners.
Insect issues, plant identification, tree decline, vegetable issues, disease problems, and wildlife management have all been addressed as of mid-June.  So, although we will not be at the Dodge County Fair with our usual booth, we are still here, ready and willing to help.
We are looking forward to being back at the 2021 Dodge County Fair and seeing residents again face-to-face, renewing old acquaintances and making new friends.
---
ABOUT THE CERTIFIED MASTER GARDENER VOLUNTEER (CMGV) PROGRAM
All-volunteer organization.
An outreach arm of Dodge County UW-Extension (UWEX).
MG's are trained volunteers who aid UWEX by helping people in the community better understand horticulture and their environment.
Membership is open to the public.
The goal of the program is to train enthusiastic volunteers so they can, in turn, provide research-based information on a wide variety of horticultural topics to the general public in their communities.
Training Requirements for Certified Master Gardener Volunteers (MGV):

Complete a 36-hour horticultural educational training offered by UW-Extension.
 Fulfill volunteer hour commitment.
Get Involved
As a Certified Master Gardener Volunteer.
Become a "Friend of the Master Gardeners" for only $7/year.
Attend Monthly Educational Meetings.

Fourth Thursday of the month from January through October.
Meetings begin at 6:30 pm and are typically held in the Auditorium Room of the Administration Building located at 127 E. Oak Street in Juneau.  We do, on occasion, have a change of night or venue.
The meetings are open to the public and free of charge.
Community Service and Outreach
The Dodge County Master Gardeners provide approximately 2800 hours of education, community service and outreach annually.
Their volunteer efforts directly and indirectly touch the lives of all Dodge County citizens as they work at nursing homes, historical societies, schools, parks, and youth programs.
History
Late 1970's – The MG program began in Wisconsin through UW-Extension.
1992 – Local MG groups formed the Wisconsin Master Gardener Association (WIMGA).
2004 – Local MGV's organized the Dodge County Master Gardeners Association.
Learn More
Through this website:

Meetings/Events Summaries

Contact Dodge County UWEX at 920-386-3793.
2020 OFFICERS
Carol Shirk, President; Linda Allen, Vice President; Debbie Steinich, Secretary; Donna Klawitter, Treasurer; Rhonda Ritchie, Member at Large.
2020 CERTIFIED MEMBERS
Dodge County Master Gardener Association has 27 members who achieved certification in 2020 by volunteering a minimum of 24 hours and doing 10 hours of continuing education.  Many of these members far exceeded the minimum in their service to Dodge County.  Due to COVID-19 restrictions, we are unable to provide a photo.  However, here is a list of the members who worked hard to get their certification:
Connie Alderden, Linda Allen, Gae Bergmann, Linda Ernsberger, Jane Erstad, Becky Goodrich, Judy Hagman, Ben Hagman, Diane Hemling, Tina Hopp, Jacque Huebner, Chris Jacobs, Donna Klawitter, Jim Kluetzman, Dennis Loomis, Joan Loomis, Jean Ramer, John Schellinger, Jann Seegert, Carol Shirk, Debra Steinich, Kay Voelker, Caryl Watterson, Helen Weisensel, Cherie Witkowski, Marianne Zastrow, Terry Zimmerlee.
---
What could be more 2020 than an ongoing invasion of jumping worms?
Dodge County Master Gardener Association no longer holds their very popular plant sale in order to help stop the spread of jumping worms.  Please be responsible gardeners and do your part to stop the spread of these invasives by becoming educated. 
These earthworms are wriggling their way across the United States, voraciously devouring protective forest leaf litter and leaving behind bare, denuded soil. They displace other earthworms, centipedes, salamanders and ground-nesting birds, and disrupt forest food chains. They can invade more than five hectares in a single year, changing soil chemistry and microbial communities as they go, new research shows. And they don't even need mates to reproduce.
Invasive jumping worms damage U.S. soil and threaten forests