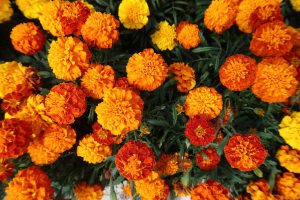 Authored by: Carol Shirk
The marigold has long been a cornerstone of the flowerbed.  A dependable annual, easy to grow with beautiful blooms and reliable all summer with few insect or disease problems, they make every landscape more beautiful.
Marigolds (Tagetes spp.) are native to subtropical America (southwest United States through northern South America, most popularly in Mexico) and have graced gardens throughout the world for hundreds of years. They are one of the most popular bedding plants in nurseries with good reason. Blooms can be creamy white, yellow, golden, copper, bronze, orange, red, or any combination of these colors.
Marigolds thrive in sunny locations with well-drained soil. Plant spacing varies from 6 to 18 inches depending on the variety. For earlier blooms, use bedding plants, putting them in after danger of frost has passed. However, marigolds are very easy to start from seed for later blooms. Sow them directly, once again, after frost danger has passed.
There are three basic types of marigolds: African, French, and the lesser-known Signet.  African marigolds (Tagetes erecta) did not originate in Africa, but gained the name because they arrived in Europe via a trade route through Africa.  They can also be referred to as American or Mexican marigolds. These are the tallest marigolds (3-4 feet) and occasionally require staking to keep them upright. Their large (5 inch), double blooms will last from midsummer through fall. Because of their size spacing for these yellow to orange beauties needs to be around 18 inches.
French marigolds (Tagetes patula) acquired their name because they gained popularity in French gardens. These are smaller (6-12 inches), bushier, and more compact plants. The smaller (2 inch) flowers can be either single or double and are yellow, orange, or mahogany red with many varieties having bi-colored blooms. Their bloom time is much longer than the African marigolds, lasting from spring until frost. While African marigolds are most suited for the back of the garden, French marigolds make a fine border or edge, or a mass planting, spacing them 6–10 inches apart.
Signet marigolds (Tagetes tenuifolia) are significantly different from other marigolds. They are the smallest, with tiny single (1 inch) yellow or orange blooms that cover the entire bushy, fine, lacey plant in the summer. They have a mounding habit and are only about 6 inches tall, making them a good option for edging or a window box.
Summer care for marigolds is relatively insignificant. Water them occasionally if it is exceptionally dry. All marigolds, and specifically African marigolds, are drought tolerant. They do not require dead-heading but, pinching off the spent blooms will encourage more blooms. Fertilizing is not only unnecessary, but also can be detrimental leading to less blooms and more foliage.
Marigolds are not bothered by deer or rabbits. However, in hot, dry weather spider mites can be a problem. They can withstand an infestation for a time, but if treatment is necessary, insecticidal soap is an efficient remedy.
Some gardeners do not care for the scent of marigolds and believe that it is a deterrent to insect and other pests in vegetable gardens. Unfortunately, research studies have proven that they do not actually deter any pests, but they certainly do add some beauty.
Marigolds are understandably the October birth month flower. With their vibrant blooms they certainly do their part to brighten every day, especially those cloudy fall ones.
Carol Shirk
Certified Master Gardener