UW Madison Division of Extension Dodge County has launched a new effort to support Dodge County residents especially during these uncertain times. We are calling it "FROM THE DESK OF EXTENSION-(article topic)".  This will be a weekly article covering topics from our programmatic areas of agriculture, families, youth, and food/nutrition. The articles will address current issues facing residents through the lens of those program areas. Thank you for supporting our mission to bring relevant research based information and education to the residents of Dodge County.
---
Pattie Carroll | Human Development & Relationships Educator |  UW-Madison Division of Extension Dodge County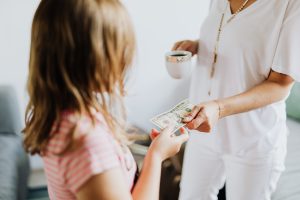 Some parents give their children an allowance. If you give your child an allowance, or you are thinking about it, here are some tips. Guide children in learning the options for their money. Deciding how to use their allowance will build a sense of responsibility and create new learning experiences. Kids will make mistakes when first given an allowance but over time they will learn important skills about finances. Pattie Carroll, Human Development and Relationships Educator with UW Madison Division of Extension in Dodge County says, "The goal of an allowance is to help children become comfortable with making basic money decisions, such as comparing smaller versus larger amounts of money and how one decision can affect other decisions."
Carroll offers the following guidance and ideas for giving an allowance to children:
Use an allowance to teach about money and making good financial decisions. Do not tie allowances to completing chores, good behavior, or good grades in school.
Begin giving an allowance around age 5. Children begin forming positive habits at this age and will gain valuable knowledge about decision making.
Use the money to teach about financial decision making and financial concepts.
Create a regular routine around the allowance by giving the same amount on a scheduled day.
Allow the child to decide what they want to do with the money.
Use separate clear jars for savings, spending, and donating. They will quickly see how money adds up and goes down over time.
Include them in household budgeting and decision making to build a sense of larger financial challenges.
Gradually increase the amount as they mature and become better at money decision making.
Open a savings account with them at a financial institution and encourage them to save a portion of their allowance.
Remember, children learn from watching and listening to the behaviors of their parents. Creating a positive relationship with money at a young age can help children make sound financial decisions throughout their life.