Authored by Michelle Scarpace, Natural Resource Educator; UW-Madison Division of Extension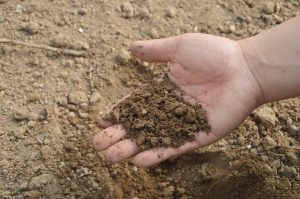 As we enter the holiday season, there is one holiday that simply cannot be missed—World Soils Day. On Dec. 5th of every year, we set a day to appreciate soil and focus on the importance of healthy soil. Soil health has become a common phrase in recent discussions on the environment and agriculture. Michelle Scarpace, a Natural Resource Educator for the UW-Madison Division of Extension states, "As a soil scientist, I jump for joy that everyone is talking about soil!  Before I get too excited, let's take a step back—what is soil health and how does it relate to water quality?"
USDA-NRCS defines soil health as the continued capacity of soil to function as a vital living ecosystem that sustains plants, animals, and humans. One of the main parts of the definition of soil health is 'function;' this is what makes soil more than just the dirt you drag into the house. We normally think of the critical role soils play in supporting plant growth, which is very important, but we cannot forget other important functions that soil provides such as filtering pollutants, cycling nutrients, providing stability and support, and regulating water. All these functions are critical in our environment and thinking about soil management with a soil health perspective. It gives us the 'tool' for managing soil for more than just plant growth. Soil health principles include:
Minimizing disturbance,
Maximizing soil cover,
Maximizing biodiversity, and
Providing continuous living roots.
By incorporating these principles into the management of soil, we can maximize the critical functions that soils serve. Specifically, in her role, Scarpace has been working with farmers in Dodge County and across the Rock River basin to improve soil health by incorporating these principles through cover crops and reducing tillage. Cover crops are planted normally after the cash crop and are used to maximize soil cover and provide continuous living roots, and reducing tillage minimizes disturbance while providing soil cover.
Although there are many benefits with utilizing cover crops and no-till, one main benefit is creating stable soil aggregates. Soil aggregates are formed from soil particles that bind to each other. When you dig up soil, you will find that the soil will break apart into little pieces—these are soil aggregates. Stable aggregates resist breakdown through outside forces such as raindrop impact. In between soil aggregates, there are large pore spaces that allow for water infiltration, and small pore spaces that retain water. Increasing the amount of living roots in a system and minimizing soil disturbance help form stable aggregates that can increase the amount of water infiltrated into the soil, rather than running off into our lakes and streams. Especially as we think to the flooding we have witnessed this spring, increasing infiltration in our soils can be a huge benefit, not only to our environment, but to our infrastructure as well.
One important thing for us all to remember, is that we can take the soil health principles and apply them to any system—not just agriculture. Think to your backyard, community park, or the landscaping around your office building. Is that system maximizing soil function? If not, think of ways that you can incorporate soil health principles to improve soil health and water quality.
Sources:        USDA-NRCS, 2008, Soil Quality Indicators
 Michelle Scarpace, Natural Resource Educator,
UW-Madison Division of Extension