4-H FOR ALL! Beginning Oct. 1st, your family can enroll in a Dodge County 4-H club by going to: http://wi.4honline.com
4-H is an educational youth program conducted by the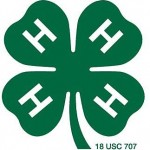 University of Wisconsin-Madison, Division of Extension. It is open to youth in 5K through grade 13 in Dodge County. Choose to learn about a wide variety of 4-H Projects in 23 clubs throughout Dodge County!
Dodge County 4-H uses 4HOnline enrollment system for all members and leaders. Enrolling is easy and convenient.To enroll in 4-H, you need a computer, internet access, a valid email address, and a web browser. You can enroll from a desktop computer, tablet, or smartphone.
Wisconsin 4-H offers 4HOnline for Families which includes help sheets for common actions in 4HOnline.
Important enrollment dates and deadlines are as follows:
October 1, 2020:  Enrollment Opens on 4HOnline for Dodge County 4-H.
NOVEMBER 15, 2020:  Recommended deadline for re-enrolling members to enroll.
DECEMBER 31, 2020:  Deadline for ALL returning and new members to enroll in 4HOnline to be eligible to show at the 2021 Dodge County Fair.  However, new members can join at any time.