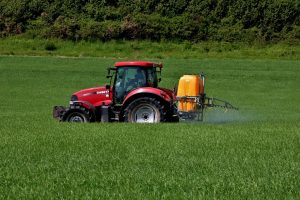 Dodge County farmers whose pesticide applicators certification has expired, will be expiring,  or first-time applicators,  will want to register for one of two training sessions or for a self-study program in order to acquire their General Farming Private Applicator's License. Current applicators whose certification is expiring will be receiving notification in the mail.
Training sessions will be offered on Friday, February 7th or Wednesday, March 18th , 2020 in the Dodge County Administration Building Auditorium. A fee of $45 includes the training manual, one resource book, and a catered lunch. Registration and fee payment for PAT classes must be done in person, at least 7 days prior to the training/testing date.  Upon registration, applicators will be taking home manuals with them at registration for studying.
Each training session begins at 9:00 a.m. and ends at 3:30 p.m. At the conclusion of instruction you will take an open-book examination (50% minimum passing score if you attend the entire training session).
Self-study recertification is also available. Study the book and schedule a testing appointment in advance with Extension Dodge County to take an open-book examination (70% minimum passing score). Fee of $30 includes the General Farming Training Manual. Self-study registration may be done one day prior to testing date at the Extension Office, 127 E. Oak Street, Juneau, WI. Phone and mail registrations for PAT are not accepted.  The 2020 Pest Management Guide A3646 is also available for purchase for an additional $15.00.
This course is offered by the University of Wisconsin-Madison, Division of Extension,  and the Wisconsin Department of Agriculture Trade and Consumer Protection (DATCP).  Other private applicator training for Greenhouse & Nursery, Fruit Crops and Commercial Applicator training are offered by DATCP.
For more information, contact Extension Dodge County at 920-386-3790.
You may also visit the Pesticide Applicator Training website at: https://fyi.uwex.edu/pat/  and find trainings in other counties at: https://fyi.uwex.edu/pat/private-applicator-training/.