4-H IS FOR EVERYONE! 4-H is an educational youth program conducted by the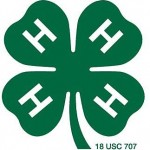 University of Wisconsin-Madison, Division of Extension. It is open to youth in 5K through grade 13 in Dodge County. Choose from 23 clubs throughout Dodge County!
Dodge County 4-H uses 4HOnline enrollment system for all members and leaders. Enrolling is easy and convenient.
To enroll in 4-H, you need a computer, internet access, a valid email address, and a web browser. You can enroll from a desktop computer, tablet, or phone.
Re-enrolling members will receive everything you need in your family enrollment packet from your club's general leader at your next meeting. New members will receive information from the club leader at the time they join a club. New family enrollment materials, tips for enrollment and commonly asked questions are also posted in the Forms, Guides and Applications page of this website.
Starting in September, your family can enroll in a Dodge County 4-H club by going to: https://wi.4honline.com.
Wisconsin 4-H offers 4HOnline for Families which includes help sheets for common actions in 4HOnline.
Important enrollment dates and deadlines are as follows:
SEPTEMBER 2019:  Enrollment Opens on 4HOnline for Dodge County 4-H.
NOVEMBER 1, 2019:  Deadline for re-enrolling members to enroll using 4HOnline.
NOVEMBER 19, 2019:  Deadline for General Leaders to turn in enrollment fees and extra project fees for re-enrolling members.
DECEMBER 31, 2019:  Deadline for

new

members to enroll using 4HOnline to be eligible to show at the 2020 Dodge County Fair.  However, new members can join at any time.